Bine ați venit în România: Welcome to Romania
10 days in Transylvania. We did not see Dracula. Instead, we saw a moose right across the street and a horse which enjoyed the newly fallen snow more than any child I saw before.
Again, we were afraid of icy temperatures in the wintertime, this time here in Romania. That's why, we decided not to stay in the van but to stay with someone over HelpX. I explained the concept of it in this blogpost. Luckily, we decided to stay with Radu, a 60-year-old, super friendly and talkative man. We met him in Brasov where he lives. The first night, we slept in the city, in one of his flats. He showed us around the city by night, we had dinner together and already learned a lot about the city's history. And the county's history. Or better, the whole country's history. It was super interesting but a lot of information to take in. But for sure, we learned a lot during our stay with Radu. Actually, I didn't really know anything about Romania before our stay there. That definitely changed.
Did you know that a lot of people with German roots live in Transylvania? German settlers came to Transylvania hundreds of years ago and the cities in this region still have German and Romanian names, there are still native Germans, Hungarians, Greeks and Rumanians. All living peacefully together. It really is an extraordinary region in Europe, we discovered. We enjoyed our time in the middle of Romania a lot! It is not only a very interesting region, but also a beautiful one.
Okay, now you already know something about Transylvania and a tiny bit of Romanian history. But how about our stay there? The morning after we learned so much about the beautiful city of Brasov, we drove to Sinca Noua with our host Radu. Sinca is about an hour drive from Brasov. It's a village up in the mountains. There, we lived in Radu's house which is in the middle of its renovation: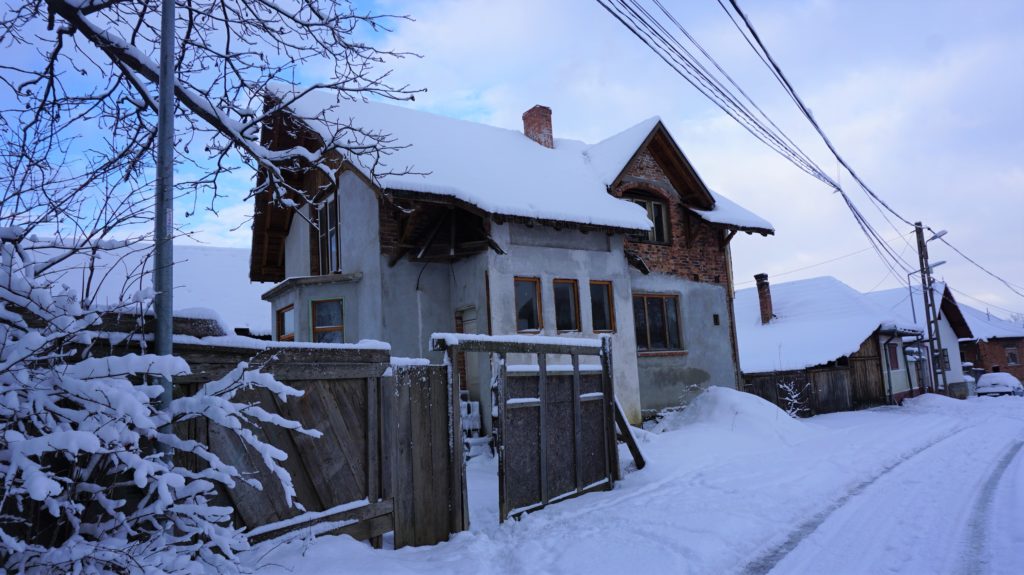 When we entered the house, we got a bit afraid of the coming days. It was freezing inside. But there were two stoves in the house which heated those rooms really well. As Radu told us, he doesn't really have much work to do in winter time and he lives in the city, so we are welcome to just enjoy the beautiful surrounding of Sinca Noua and relax in the peaceful silence in the house. So, we got the chance to get an insight in the life of a little Romanian village up in the mountains in Transylvania without even working for our host. That was a great opportunity for us, to work on our project. We sat together quite often to discuss our further steps and to work on the documentary.
Besides that, we used our time and the kitchen to cook some delicious meals in the evenings and Tim baked a cake for coffee times in the afternoon. As you guess now, we spent an awesome feel-good-time in Romania!
Plus, one day I went on a hike with Felix in a nearby mountain area. I was not used to hiking up and down so much anymore and had a bad muscle sour the next day. Anyways, it was nice to be outside the whole day, enjoy the nature's beauty and gain a closer look into Romania's countryside:
Besides all those relaxing activities, we also had some skype talks with several media stations to plan cooperations, e.g. with DLF Nova which was a big deal for us since we, ourselves, listen to DLF-Podcasts a lot. Being in one of them now, feels kind of strange. The whole media appearance feels weird because for us the whole project is still something we mainly do for our own interest. Still, it is great that more and more people get interested in the outcome, so that we can spread the voices of our fellow Europeans with as many people as possible. So, of course we are happy that all of you are interested in our travel and the project and we hope that we can present a great documentary to you in September! For that, we work a lot in those last days. And I would say, that we are getting better and better with our cutting program and getting a closer picture of how the movie should look like in the end.
Okay, enough about the working part. We also went on little walks in the village. Since it snowed a lot in the beginning of last week, everything looked romantic. I haven't seen so much snow in a long time, it was nice to go for walks and hear the snow crunch under your boots: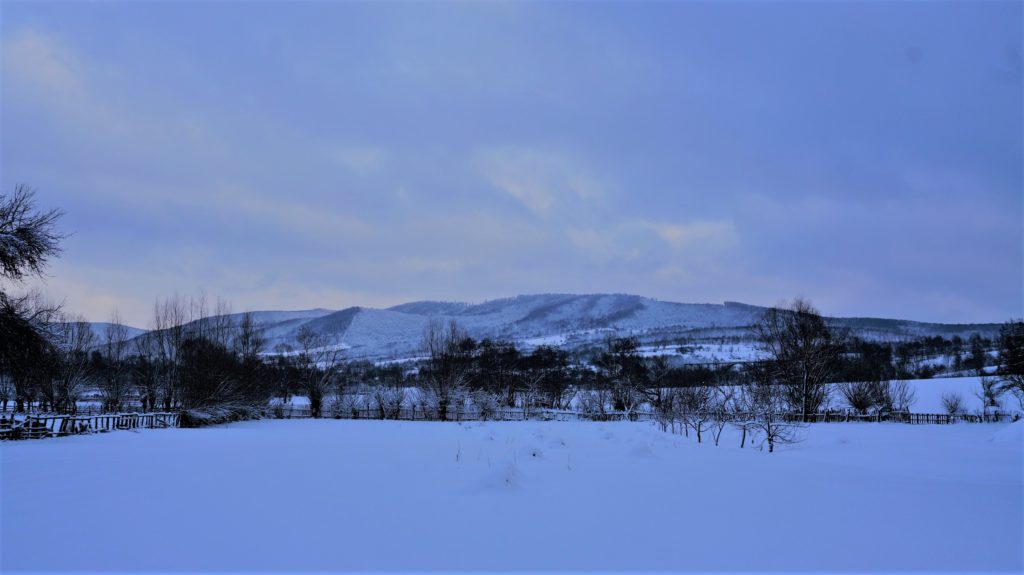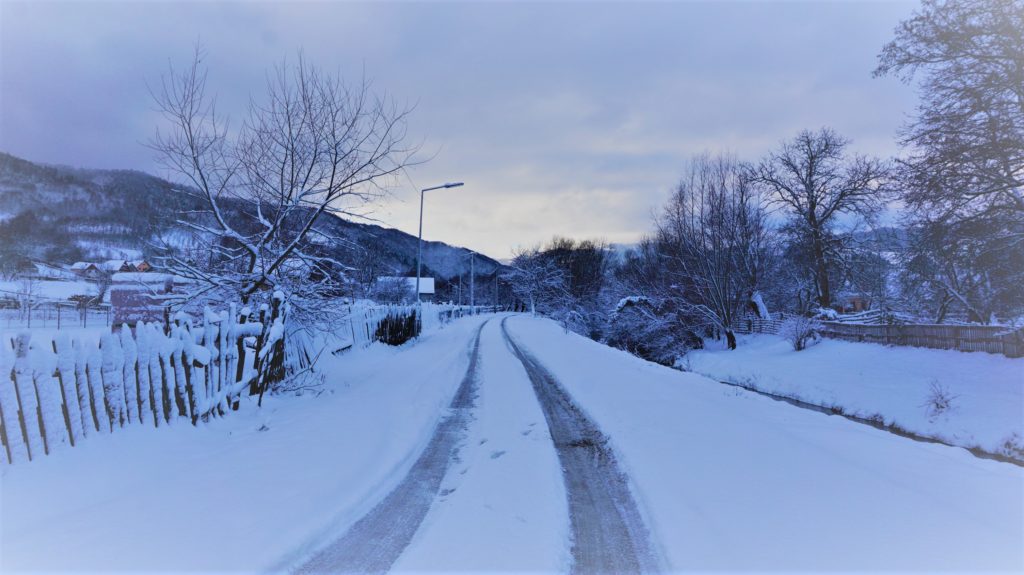 What would a visit to a country be, without meeting locals? Romania was an all round perfect experience. First, we had a new interview record! Felix interviewed Radu and the interview lasted 1h40mins. For you to get a feeling of how long that actually is: The average interview lasts something between 10 to 30 minutes. But thanks to the interesting thoughts he shared it was still interesting!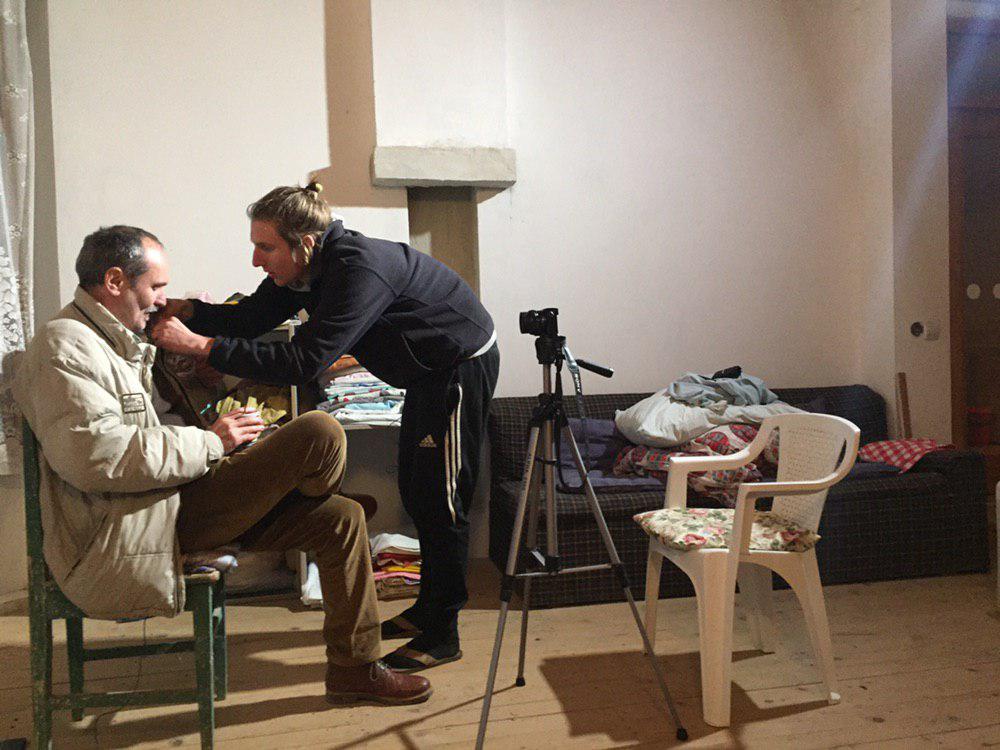 At the weekend, Tim and I drove back to Brasov. There, we met Radu for a city tour during the day. It is a city worth visiting with a really nice old town. Also, we walked up to a castle together where we enjoyed a great view over the city. We learned some more about communist times in Romania and Radu's political views.
In the afternoon, we said goodbye to Radu to meet Uwe and George. This was truly an enjoyable evening with an encounter we will never forget. Thanks to friends from friends (big thanks to Anja and Peter from jumbo_on_tour and Grattlervilla at that point, who arranged for that contact!) we met this super interesting couple. Uwe belongs to the German minority in Romania, George to the Greek one. Uwe's mother tongue is German, George's Romanian. Both are born Romanians but feel as Europeans.
We again, learned a lot about Transylvania's history and communist times, but from another point of view. It is indescribably enrichening to meet several completely different people in one country. You definitely get a wider impression on everything than with just reading about a country and its inhabitants on the news.
After the interview with Uwe and George, we stayed for another tea and chatted for some more hours: A lot about the EU and also about life, our project and their project – the two of them convert a barn into a cultural center where they are going to arrange movie nights and many more things. In the end, we even got invited to their Festival of Art and Culture next summer and for sure, we are going to try to come. Because it would be a pleasure to meet again and Romania is definitely a country where we want to go back to visit some more of the country's diverse beauty. Plus, coming back in another time of year sounds tempting. As we learned, spring and summer in the Transylvanian mountains must be beautiful. To make the stay at Uwe and George's place perfect, they even helped us to translate George's interview before we left. Uwe answered in German, since this is his native language, which makes it easier for us to keep on working with it. Thanks to the two of you for the nice time!
The last days in Romania passed by quickly. Which was a pity since the house in Sinca Noua began to feel like a home. But, I guess, that's what this whole trip is about: Getting to know a lot of different areas in all those diverse European countries, getting to know lots of different people who all leave an impression, getting to know our home continent and also saying goodbye to all those people and places we meet and visit. So, we packed our stuff and went back on the road. Fortunately, we didn't get stuck in the snow. We drove off to Sibiu. Here, we met Ioana and her husband at their place. Ioana shared her thoughts about the EU with us and told us, why she is happy and proud that Romania is part of this group of countries. Thank you, for sharing your ideas with us, Ioana!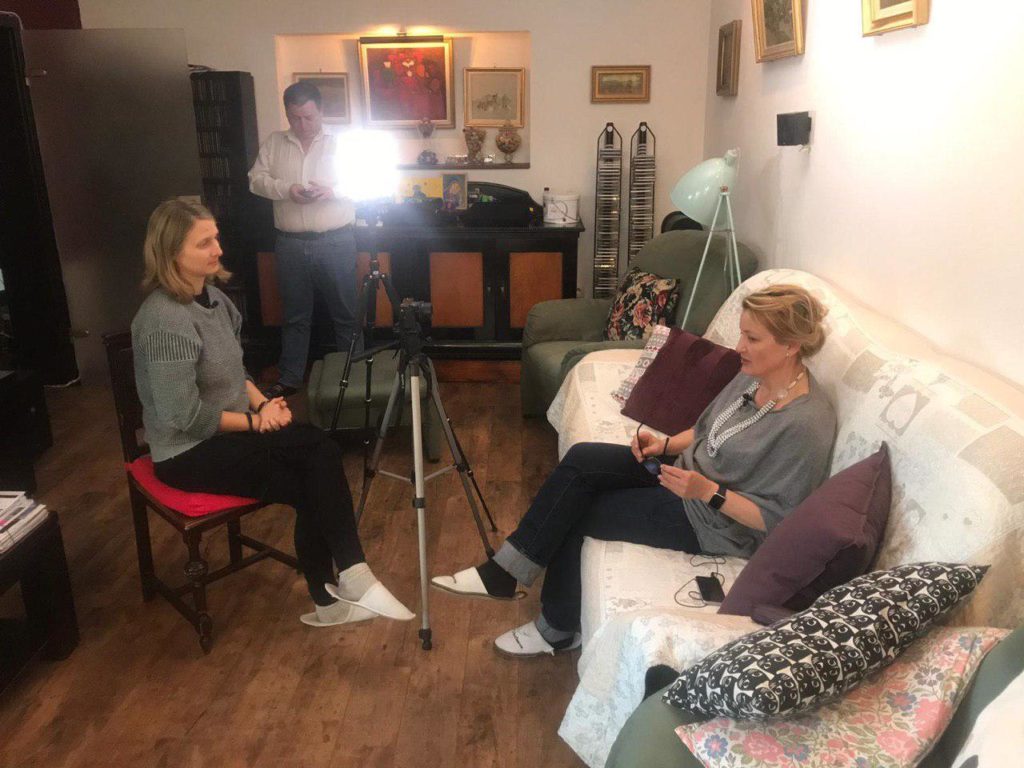 And again, we ended up staying at their place way longer than expected. We had drinks together and, in the end, even stayed for dinner. We again talked about communism in Romania and the bloody revolution in Bukarest and other Rumanian cities in 1989. And a lot about music. We had a pleasant evening and left Romania the next morning with a real good feeling. We had priceless meetings and gained so many insights in people's lifes and now know so much about Romania which revealed as a super nice and interesting country.
Our route through Romania: