Witamy w Polsce: Welcome to Poland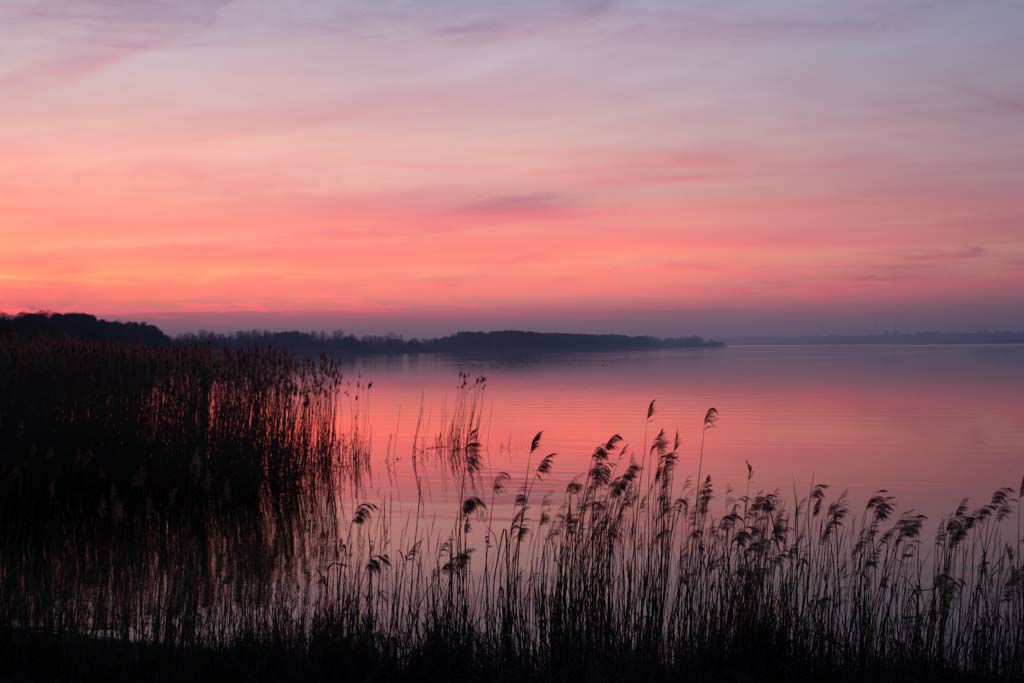 We had an amazing week in Poland! We discovered the middle of the country, met lots of people and had great friends traveling with us. As I mentioned in the former blogpost, Tim (a friend of mine from Dresden) and Leo (Felix' sister) travelled with us through Poland.
On our way to the first stop, we drove around like crazy, desperately searching for good WIFI signal. Eventually, we found it, pulled up next to the road and stopped for a while. Why all that? We had an appointment via skype with the German children-TV-show 'Tigerentenclub'. That was our first interview for a TV station which was really exciting for us. Before we started the recording, Johannes, the moderator, showed us around the studio and explained us how everything works. The interview went smoothly, and we were done pretty fast. All in all, it was an interesting experience to get a glimpse into studio work.
Our first real stop in Poland was Wroclaw, the city where I did my semester abroad (I met Jelena from Croatia, Maria from Spain and Vissaria from Greece here, whom we already met on our tour). Coming back to Wroclaw was nice since we went to the same bar and restaurant, I went pretty often when I was living there. Also, three of my university friends from Hamburg came to Wroclaw to meet up with us for a little while. The evening we arrived, we met them in a bar to celebrate into my birthday. It was a fun night and I'm glad that I had the chance to spend this evening with so many great people.
The next day, I strolled around the city with Tim from Dresden and my friends from university in Hamburg. We ate Pierogi, which is a delicious Polish meal, searched without luck for a second-hand shop and went for a coffee in the market hall. Meanwhile, Tim and Felix met Weronika and Asia for interviews. We got their contact over Justyna from the German broadcasting station DLF who interviewed us for the radio in February. After we chatted with her, she asked if we are interested in interviewing young people in Poland – part of her family lives in Wroclaw. We were more than happy about that chance and gladly said yes. Asia and Weronika are our youngest interview partners so far and we are happy that they were willing to meet us and to share their views and thoughts with us – thank you very much!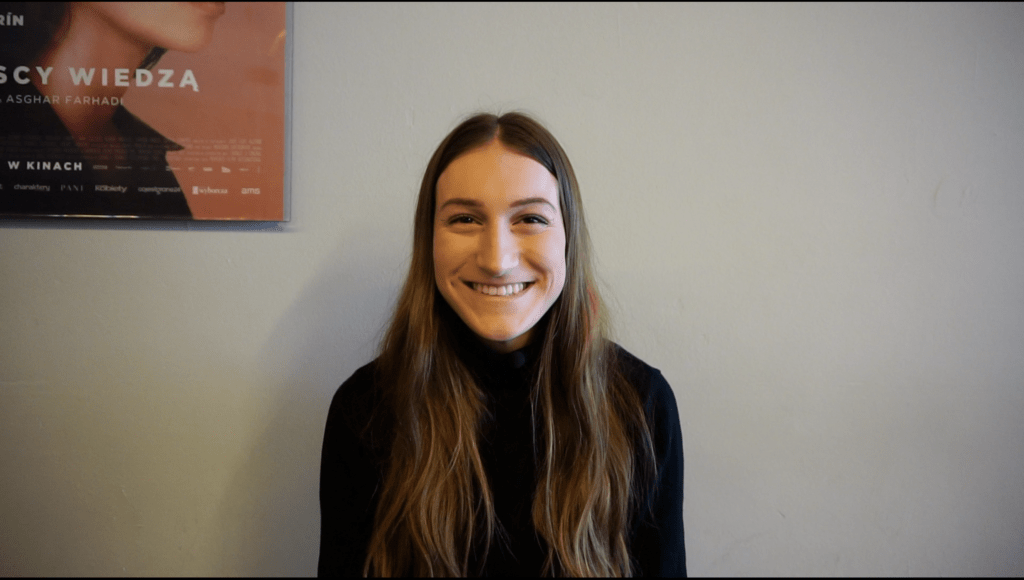 The time in Wroclaw wasn't over yet. In the evening, we met Tim's dad Bernd (maybe you remember him, he installed the electricity in our van – you can read about that here). He organized two more interviews for us in Poland and came to meet us there. We all went to have dinner together: Thanks Bernd, for the invitation!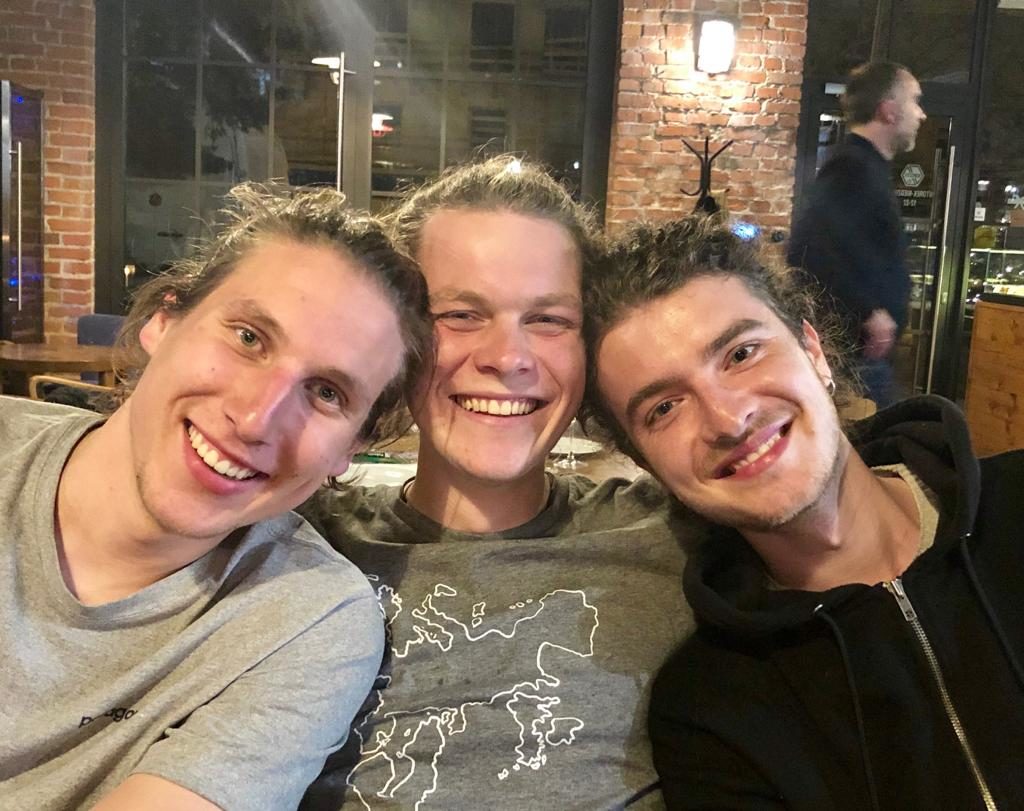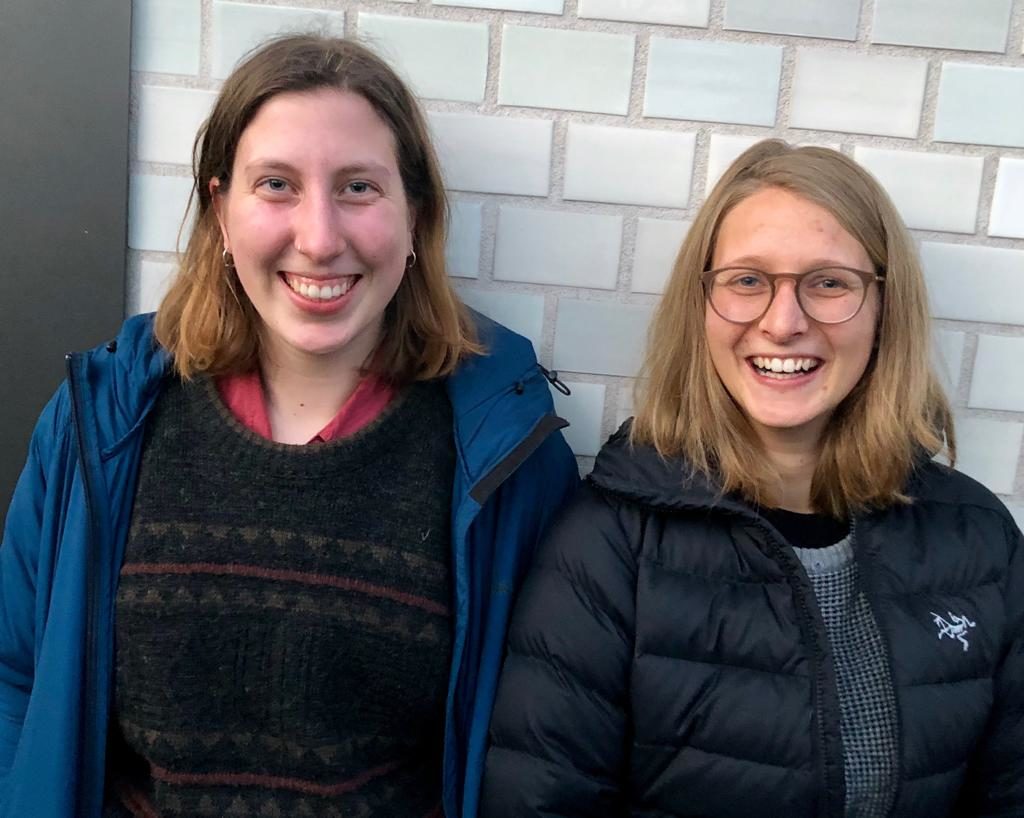 We got to know Anna and Lukasz over dinner. But before we got inside to eat, they were willing to give us an interview. Thank you, Anna and Lukasz for meeting and getting to know us and sharing your opinion towards the EU with us. It was enriching to get to know your thoughts and to hear about your own travel stories.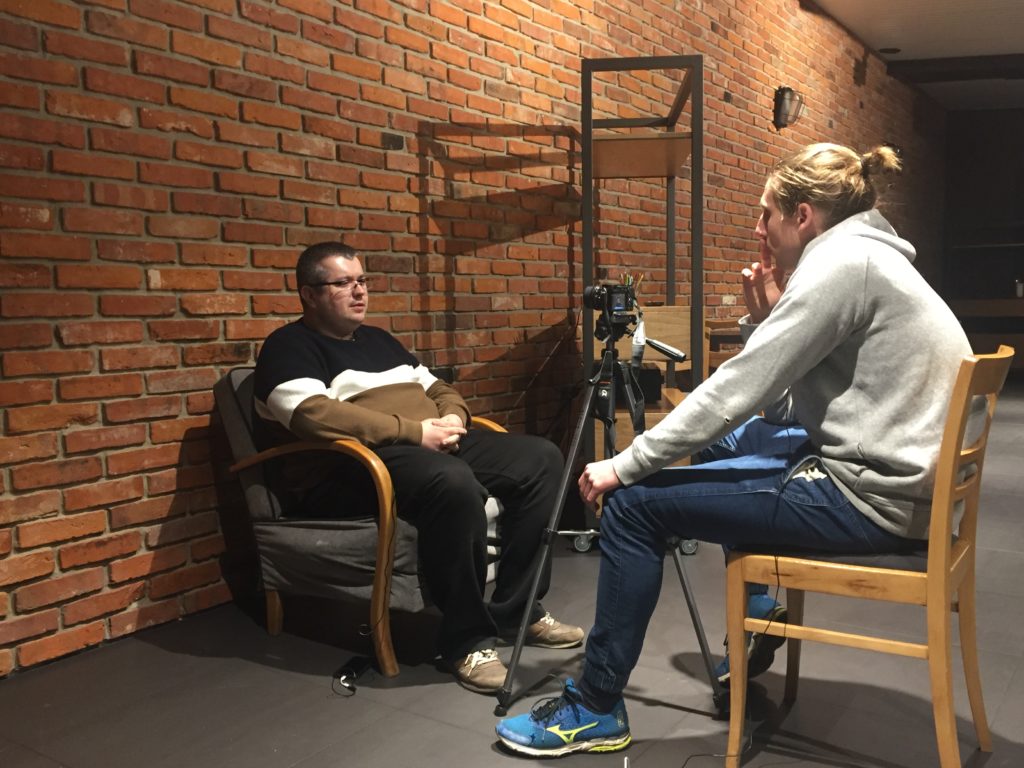 The next day, Tim spontaneously decided to accompany his father back to Hamburg to get to see his family and his girlfriend for a week. The two took off in the early morning, so it was Felix, Leo, Tim (from Dresden) and me for the coming days in Poland. We were excited about what the countryside of this country looks like, so we started our journey.
This is the route on which we had a great adventure:
Being back in the nature after spending nearly a week in cities felt really nice. Plus, our first spot back in nature was peaceful and really quiet: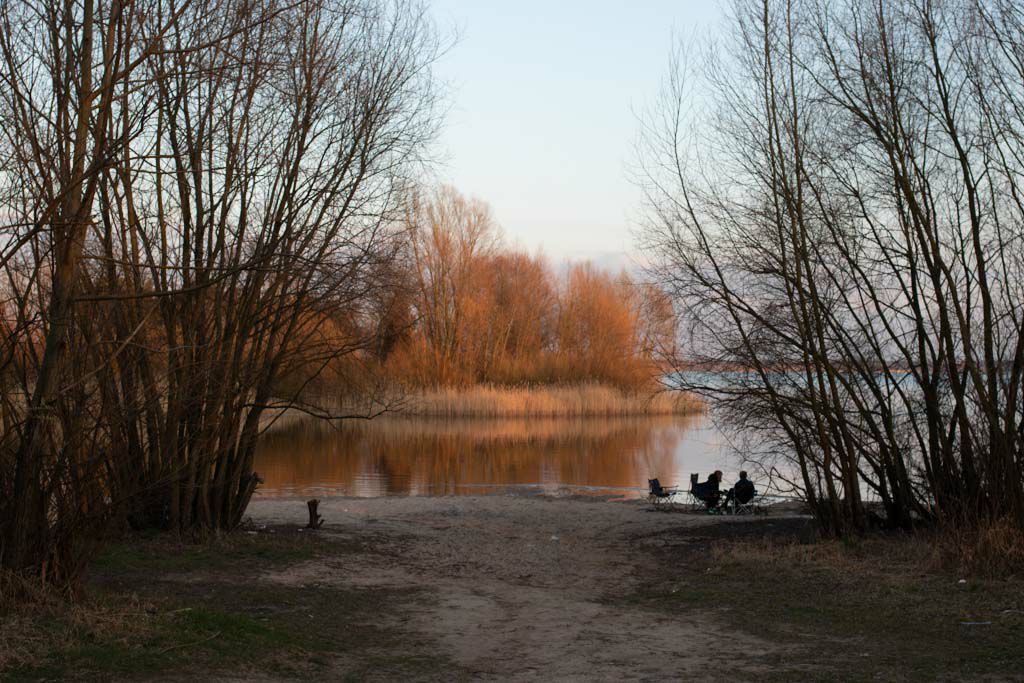 From that day on, we started to have bonfires every evening for the next few days. Actually, we already started to light the fires in the afternoons. It was really nice to sit next to the warming fire, in the sun, when it already started to get cold around us.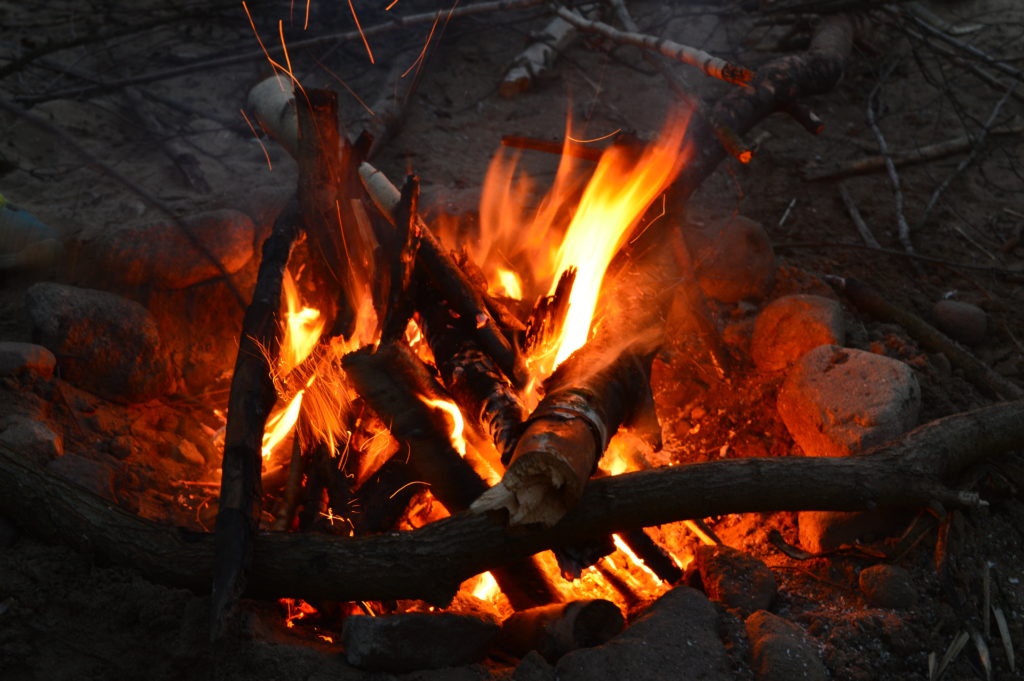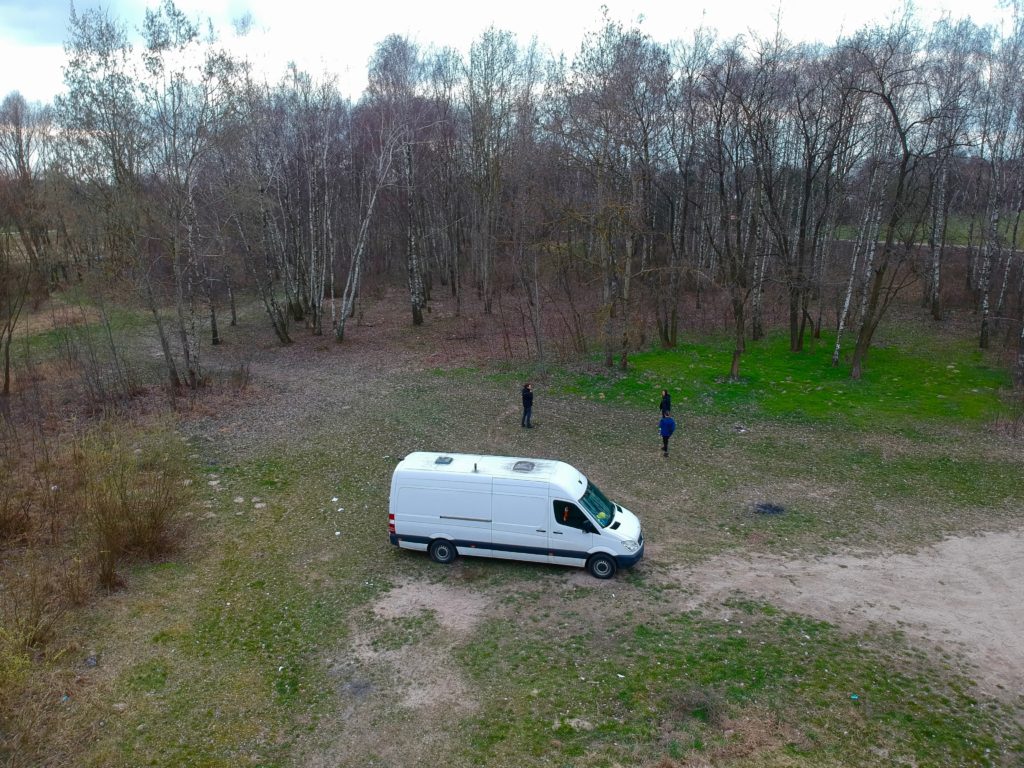 We were sad to leave this spot the next day already but unfortunately, we realized that we are out of food, so we needed to drive to get to a supermarket. Thanks to the app park4night we found an even nicer spot for the next nights (we decided to stay there a little longer).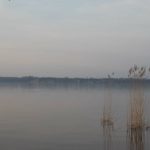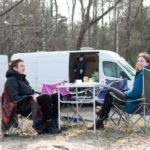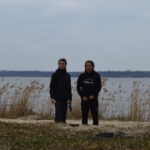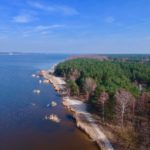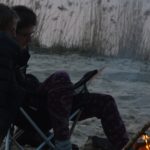 What we learned about Poland's nature is that it is really flat and sandy everywhere. We are happy that the weather was so good the days we were there. Probably we couldn't enjoy all those nice spots right next to rivers and lakes if it would have rained – or we would have get stuck again. But this way, it felt a bit like a chilly summer vacation with friends.
We saw that agriculture is still practiced originally in Poland. I guess, I never saw so many old tractors in such a short time: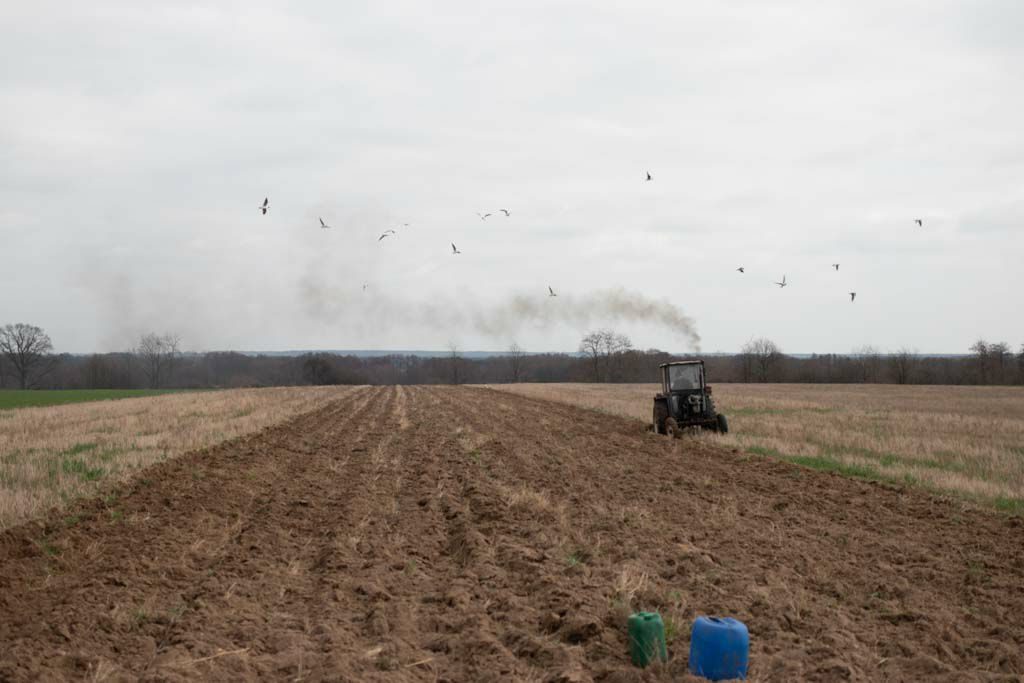 We also saw, pretty often, huge areas of felled trees which was a sad image: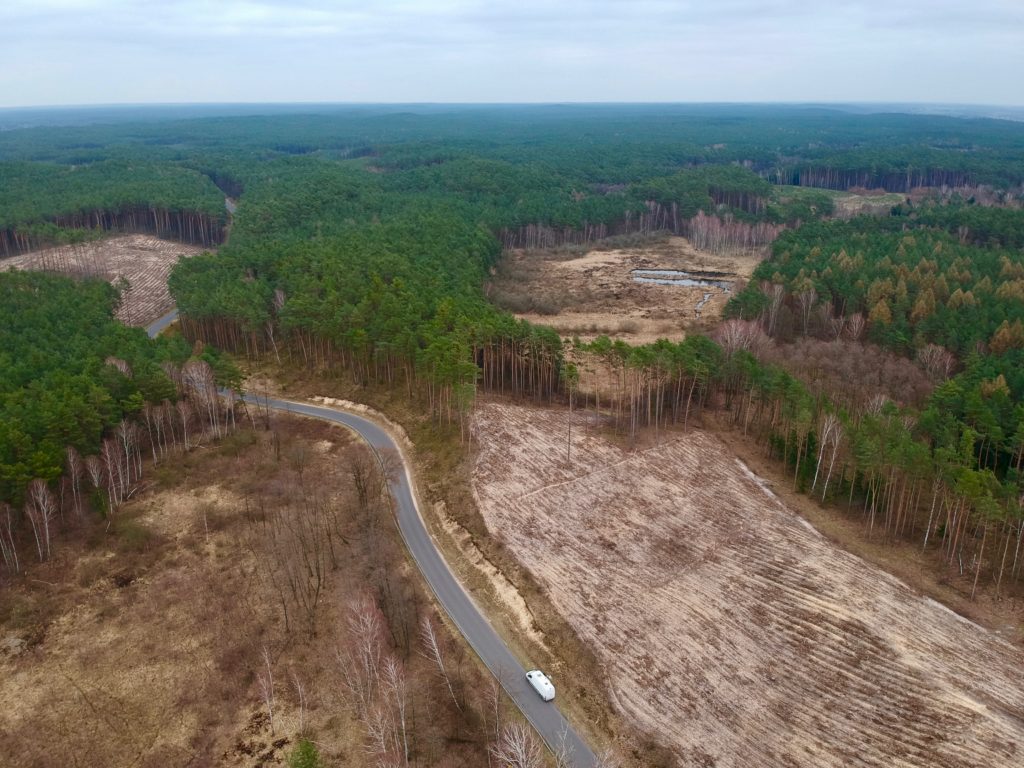 We also got to know Poland's great wildlife! We never saw so many storks before. We saw massive trees felled by beavers. I took some exploring walks with Tim and learned some interesting facts about trees and the nature of forests. It's always enrichening to have people over for a visit who have an interesting knowledge in a special field.
At some point, it was time to say goodbye. Tim took the bus and drove back to Dresden. It was sad to drop him off since we had a real fun time together. But Leo still joined us for two days which was really nice. In that time, we drove to Bialowieza National Park where we had a great last time in Poland.
Coming back to the earlier mentioned wildlife: We also saw bison – not close but in the wildlife, which was really impressive! But it was a long search. We knew that in this National Park there are the last bison in Europe, which are by the way the biggest free-living mammals in Europe. So, we desperately wanted to see them, went for a walk in the afternoon to a view point but there weren't any. We thought about looking for them the next day, again. We ate dinner, played some Skat and all the sudden, someone knocked on the van door. It was super scary since we stood somewhere in the middle of the woods, all alone. And it was totally dark outside. It knocked again. Felix opened the slide door and two lights were pointed at us. Border police. They wanted to see our passports, the papers of the car and our drivers' licenses. The whole situation was really weird. Then we realized that we are extremely close to the Belarusian border and asked the policeman if they are looking for refugees. He said yes. And sometimes they find people crossing the border, he also said. Now, the feeling was even weirder. And again, we realized our privileges to be able to travel so freely, not be harmed and not be searched by police.
The policeman also told us that we should look for the bison in the very early morning. So, we got up the next morning at 5.30am, drove into the sunrise and searched for those giant animals, again. With luck! We saw 4 ones and it was totally worth it, getting up so early.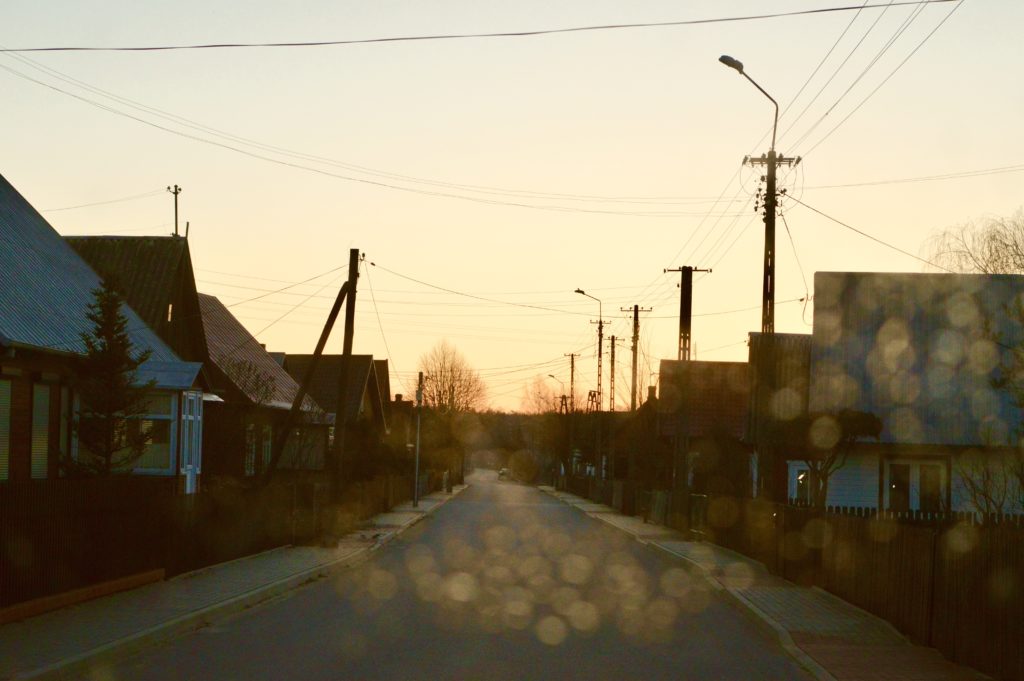 Tim and Leo are two patinate photographers – thanks to the two of you for taking so many great pictures and sharing them with us. Most of the pictures in this post are from them. Plus, we do not want to withhold Tim's arty pictures:
After Bialowieza National Park we dropped Leo off. Felix and me drove further North, closer to the Lithuanian border, to spent the last three days before Tim joined us again at another lake. We worked a bit on the documentary, I wrote this post, we enjoyed the sun, played some soccer and realized, how quiet it is when there are no other friends traveling with us.