People of Ireland
What made our days in Ireland so special were all the people we met along the way. In the first days in Ireland, we drove to Geraldine and Andrew's house, friends from Tim's family. What a warmly welcome! There was the best breakfast we had in a long time waiting for us when we arrived at their place. We stayed for two full days – during that time we were spoiled by lots of good meals. We used the time there mostly to get things done for which we needed WiFi. For example, we finally made it to switch our blog to this website (I talked about this process here). Thanks to you, Geraldine and Andy, for the nice time at your place! We enjoyed all the talks we had, as well as the warm showers, the comfy beds and the delicious food. In addition to all that, Andy was willing to share his wishes for the European Union with us on camera. That was one informative interview with a lot of interesting points of view.
Time passed, it was weekend again – time for us to go out and meet strangers. Still in Killarney National Park, we parked Oswald at the end of a living area and walked around the neighborhood. It turned out to be a really fancy area with grand houses with high gates in front of their driveways. There was not a real chance, to meet people who are gardening outside to start a conversation. At one point, two cheerful dogs welcomed us at their owner's driveway. We ended up playing and cuddling with the two of them for quite a while but when we rang the doorbell to see if some person is up for hanging out with us like those dogs, nobody opened the door. So, we got back to Oswald and hit the road again. Not too bummed yet, we stopped at an Art Gallery that we randomly passed. We had a little chat with the owner, a sweet, young woman who is producing potteries. At one point, she claimed that she is not interested in politics at all and that she's just living in her own little world and neither feel like talking about the EU nor being on camera.
We kept on driving and looking out for people to talk to. When we were already close to our sleeping spot, we saw a woman watering flowers in her garden, the gates to her driveway were opened. One last chance for the day, we thought! I jumped out of the van and introduced myself to Mona. She was friendly and opened from the very beginning. Right away, she agreed on being on camera. So, we had a nice chat about her life in the Irish community she's living in with her husband. It was very warming to get to know those two. Seeing someone so purely happy with their life and everything they got, was great! In the end, they even gave us some of their homegrown apples – really delicious, thank you.
The day after, we went to a town near Cork, to visit Tim's former host family who he lived with for his high school year abroad. It was super interesting to see where he once lived. We were welcomed warmly and got invited to a delicious dinner. Here, I talked about how people helped us in the end of the month, when we ran out of money. Now, this is what I meant. Most of them did that unintentionally, I guess, and just out of generosity but for us, it helped a lot.
That same evening, we drove into the city to meet one of Tim's old friends. In Leon's shared flat we took nice, warm showers at first. Than we went out to explore Cork together. It was a really fun night. Before we left the next morning, we had a nice breakfast together.
Even though, we already had a great time in the Cork area, we did not leave right away. Our hope was, to get an interview with Mary, Leon's mum. Leon said that he is camera shy and does not want to be interviewed for our documentary, but he had the idea to ask his mother. So, as you might have realized, personal connections are pretty important for us to get interviews from all different kinds of people in all countries. Until this point, it is a great way to get to know lots of people. And, we are amazed by the openness and helpfulness of every single person we were in closer touch with, so far.
We ended up visiting Mary that same evening, had dinner with her and Leon and spend some really nice hours together – again, we did not expect any of that and were happy about that evening. In the end, Mary gave us an interesting interview with lots of enriching points of view. Thanks for everything!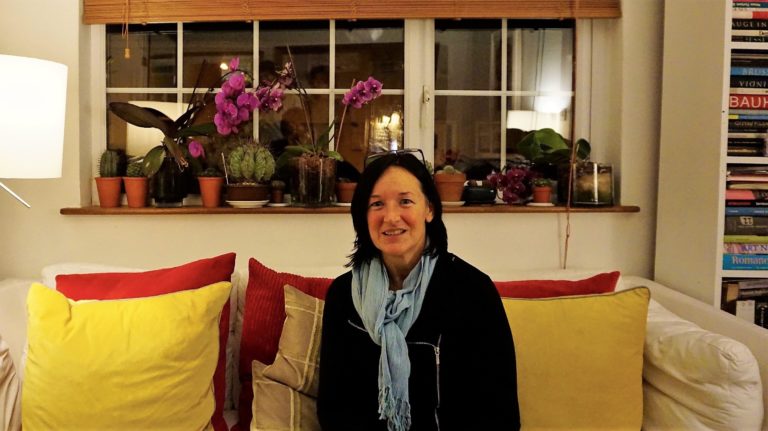 We met so many great people, had interesting conversations, fun times and even got food here and there. All in all, it was a great and special time for us in Ireland. Read more about our days on the Island here.