Bem vindo a Portugal
Time for Portugal! Finally! One of the countries we were looking forward to the most. None of us has been here before but we heard so many positive things about it. Our expectations have definitely been met. It is a beautiful and, even in December, sunny country. We did not expect to get so tanned in winter in Europe but this way we got enough Vitamin D for the next month for sure.
Tim and I stayed in the North of Portugal for two days. We found a nice spot right by the sea, enjoyed to finally be in Portugal and escaped the rain who caught us in the last days in Spain. We enjoyed the sun and life to the fullest and just, let's say, did nothing for two days before picking up Felix again.
The day Felix arrived in Porto, we drove to the city in the morning since I wanted to wander around the city and taste some of the popular Portuguese pastry. Tim used the time to check out another gym for some workout and a shower – that went well, you could say. He ended up in a really noble workout/spa center, did some sports and enjoyed some hours of relaxation and sauna. The day for me turned out equally nice – even though I unfortunately had no free sauna. I walked through the picturesque alleyways of Porto, tried some pastry which was surprisingly cheap and non-surprisingly delicious, found a second-hand shop and in there nice pants.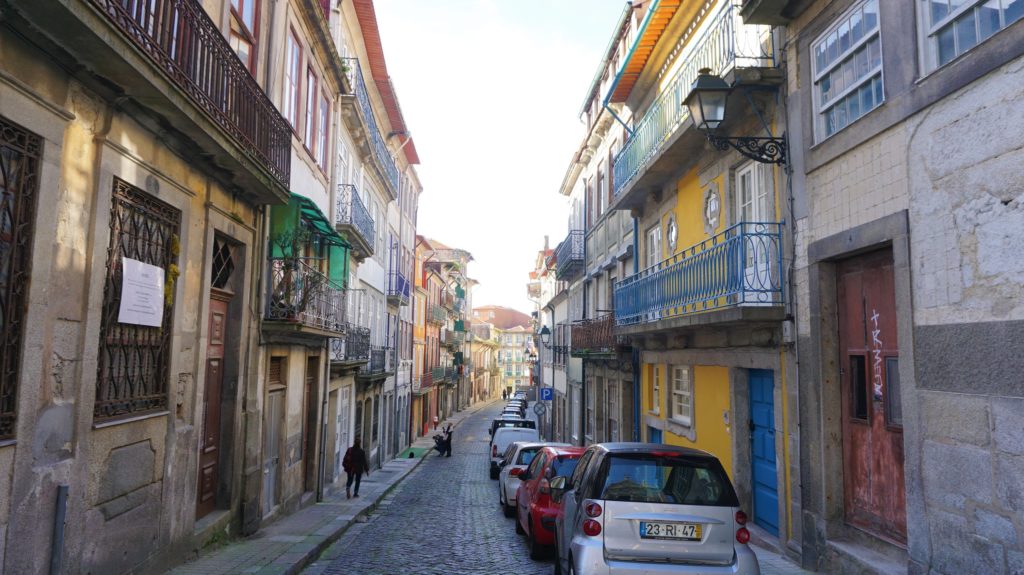 In the afternoon, we picked up Felix at the airport. Even though, Tim and I had a wonderful time together, just the two of us, it was nice to be fully reunited again. The next week we realized for the first time what people mean, when they are impressed by the three of us traveling together. We realized: It does make a difference if you are travelling with one or two other people. Even though, we are used to hang around all together a lot and living together, you have to make more compromises, you automatically have more discussions, everything just takes a little while longer when it's three, not two, people. But, since we are able to manage all the challenges that cross our way, we still love travelling with more people! At this point: Welcome back Felix 😉
Enough about us being reunited. What to say about Portugal – more than that it's sunny and hot there quite often? It is a great county for campers. There are a lot of amazing spots for vans right by the sea. Plus, wild camping is allowed. There are also many backpackers and hitchhikers, so you definitely meet some people from all over Europe. Well, to be honest, most of the travelers are German. You can get the feeling to be in Germany when driving up to one of those great spots because you get surrounded by German license plates. Not always but every now and then.
Talking about nice people. We met a lot of really interesting people in Portugal. Old and young. From Germany, the Netherlands, Wales, Czech Republic, … Only by talking to other travelers for a short amount of time, you realize that you are far away from your "normal" everyday life at home right now. There is so much more to talk about than work or the weather when your life takes place on the road. It was super interesting to meet people who are in really different ways in the same position as you are at that very moment. We met many fellow Europeans who are traveling in their vans for a long time: month, years, forever. And it widened, at least my horizon, to get to know these people a little bit. Young families traveling and talking about their plans for the future, couples who decided not to return to their regular life, retired people who are just floating around, exploring the world. People you do not get in touch with, when living in your shared flat, going to work or university every day and basically spending time with the same kind of people day in day out. That's great, too. I do not want to deny that. I enjoy having my "normal" life where everything's a bit easier and more according to the norm as well. But this trip is a great experience, for sure. And all the people we meet enrichen this experience bit by bit.
As Carlos. We met him over friends. I received an Advent-package delivered from my parents to his house. The coordination was not too easy, but it worked out, thanks to all the people involved. Especially to those who established the contact. Also, to my parents for all the delicious treats!
Carlos can speak a few words in German, no English. His wife and his brother, who were there, having lunch with Carlos when we arrived, only spoke Portuguese. We were not able to say anything in Portuguese. Now, we know at least some words. But as you can guess, the communication wasn't too easy. Still, we spent around two hours at his place. We drank Port wine together, talked as far as possible, ate cookies and more and more people entered Carlos' sunroom during the time we were there. In the end, there were about eight elderly people, playing cards, drinking wine and laughing a lot. Everyone was very friendly to us, even though, communication wasn't really happening. It was pleasant hours, being thrown into the Portuguese pensioner life with all this cheerfulness. In the end, Carlos even gave us an interview for our project. You can learn more about his opinion about the EU and what's not going too well for Portugal in one of the following Advent Calendar posts.
The day after was a pretty special one as well. We drove down to Lisbon. By coincidence a friend of mine from university was there for a few days as well. We spent the day together in this really nice and hilly city. We were just wandering around, peeking into second-hand shops, sitting in the streets for a little drink, enjoying the sunset at the city beach and going out for dinner which is really special for us on that trip. We ended up in a pretty fancy vegan restaurant with super small portions what was a bit unsatisfying but, it was very fine food! All in all, we definitely had a fun day with Tomke – it is always nice, to meet someone familiar on our journey and get updated about the life in Germany a bit.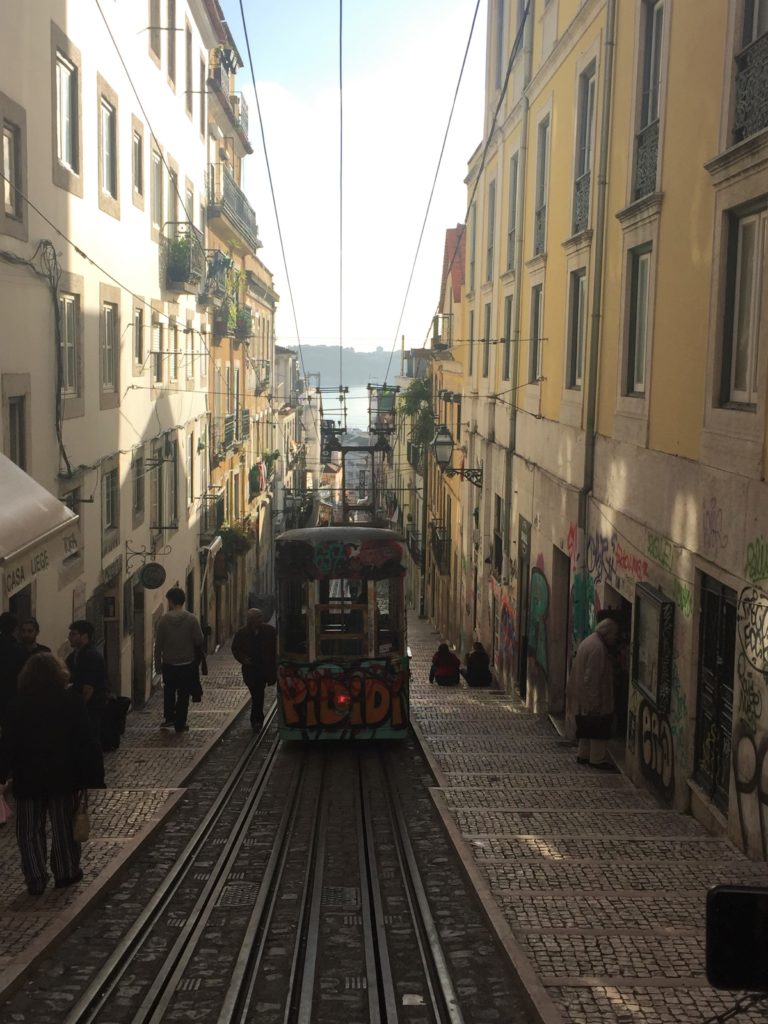 Afterwards, we continued driving South. We entered the nationalpark "Parque Natural do Sudoeste Alentejano e Costa Vicentina". If you are ever in Portugal, you should definitely go there! There are also great hiking trails. We stayed there for a while – in several different spots, each and every one was great. One even had a soccer field which we used for quite a while. Also, we wanted to spend one night at Barranco Beach and we read online that, to get there, you should take the route coming from East. The way from West was supposed to be nearly impossible to take. We thought: "Good that we read that, taking a real difficult path with huge Oswald would not be a good idea". So, we took the route coming from East. You could not call it a street really, it was more a path. Really narrow, super bumpy. It got steeper and steeper and we started getting a little worried. Up to a point where we were sure, we cannot continue driving down that path without Oswald tipping over. That was the time when we realized, someone mixed up East and West. The most frustrating part about that was, that we could already see the beach and all the cool Hippie-Campervans. It was right there but seemed impossible to reach. So, we decided to drive back up, backwards. It didn't work. There was only one way: down. Hopefully not for our beloved home. That would have been a disaster! But, we somehow managed. Or let's say, Felix managed, he did an excellent job maneuvering Oswald down that steep path. Finally, we arrived at Barranco Beach and stayed there for the day and the night, enjoyed the sun, a swim in the ocean and a "movie night" with The Ballad of Buster Scruggs. We would say: It's a movie worth seeing. You should bring some black humor with you when watching it, but we think it is a great, new movie from the Cohen Brothers.
As we liked Portugal so much, we want to give you some more impressions of this beautiful country:
As you can see, a lot of adventurous things happened in Portugal. But that's far away from being it! We spent another week near Quarteira at an amazing free-camping spot. A pretty famous one within van-lifers, we learned. There were around ten to twenty vans every night. Some stood there for quite a while, some only for a short amount of time. All of the people really relaxed, nice and interesting. We decided, even before we started this journey, that we want to try fasting for a few days. The time was here – but not here, in this post 😉 Read about this experience of ours in the following blogpost! But, to get a first impression:
And, as always, you can see the route we took through Portugal: