Velkommen til Danmark: Welcome to Denmark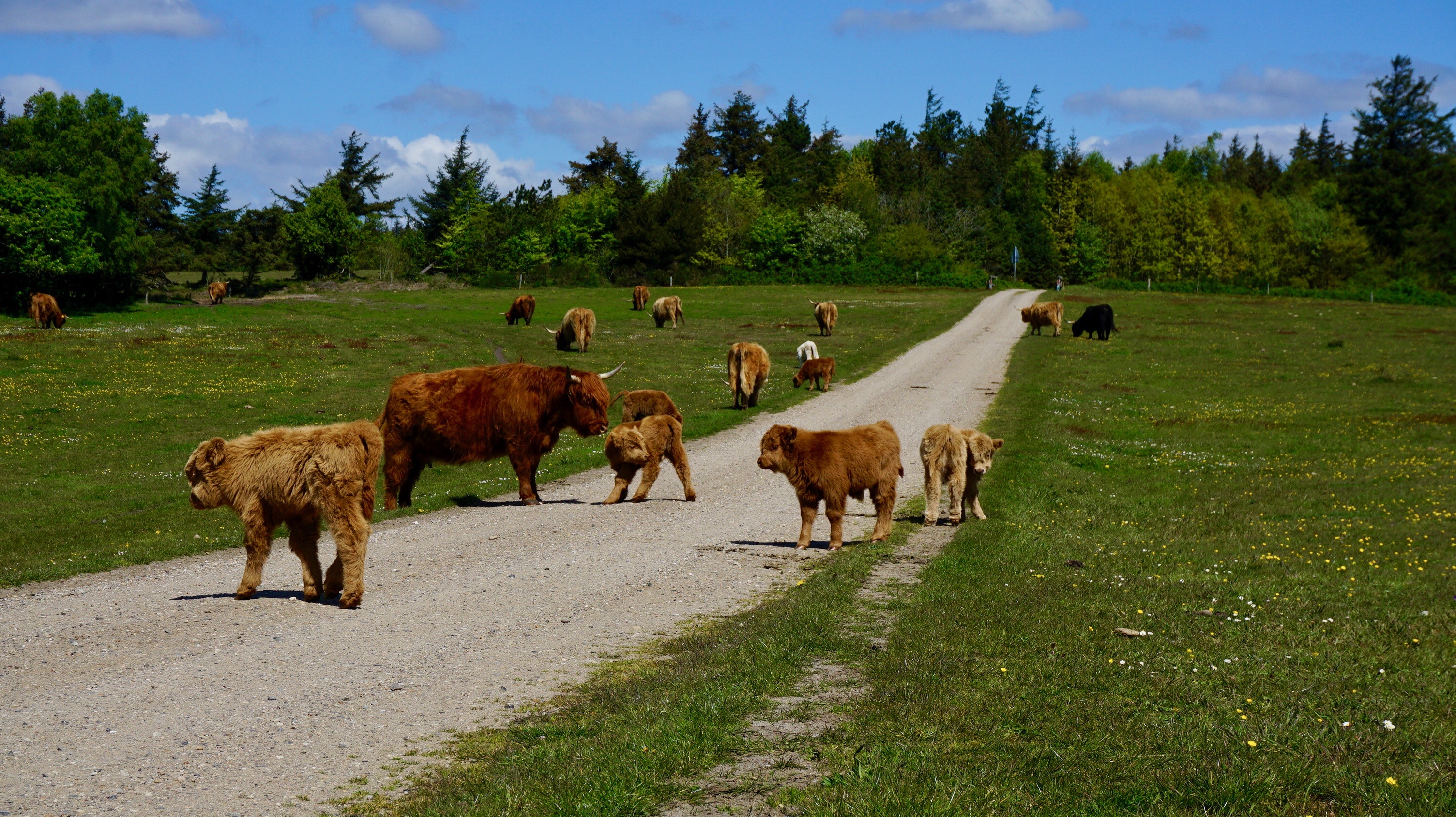 It's already been some days since we arrived back in Germany. Still, I want to tell you something about our last days on the road. It was funny to be back in Denmark. Maybe you remember the stories about our first trip with Oswald? If not, feel free to read about it here. It is nearly one year ago when we first came to Denmark, the three of us. So, it more or less is the place, where everything started. And somehow ended now.
We arrived in Denmark in the morning, after a pretty comfortable ferry ride with a great view over the ocean and some rounds of Skat. On the first day, we went to a gym for a free warm shower for the very last time on our trip, drove all the way from the Baltic Sea to the North Sea and found a real descent sleeping spot.
It felt weird to think about doing things for the last time. And to think about the coming week, where the traveling would end. On the one hand, there was a great anticipation to see all our friends and families again. On the other hand, it was sad to know that we won't live together anymore. Anyways, the last week on our journey was anything else than a normal traveling week as we had them before.
On our first morning in Denmark a film team from the German TV station ZDF came to visit us. One reporter, one camera man and one sound man. That was a weird and super new experience to us! They accompanied us for four hours – filmed us during breakfast, driving and when we were searching for an interview partner for our documentary. Even if it was really strange, we had a great time with our three visitors, they were funny, and we got to chat and laugh a lot. In the end, they even invited us to come to their studio in Kiel on our way back home to Hamburg. We gladly accepted the invitation and a few days later we stopped by at their studio and they showed us around and how everything works in a TV news station. That was really interesting to see – thanks to all of you for firstly, the great time in Denmark and secondly, the nice visit we had in Kiel!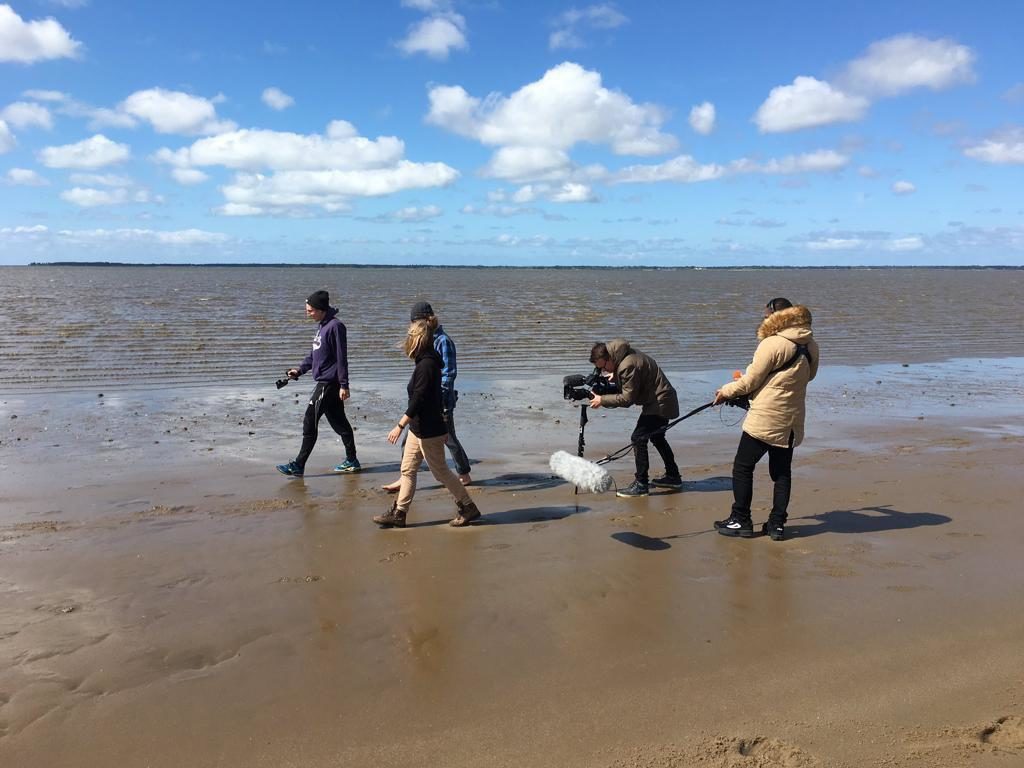 While the ZDF team visited us, we looked, as mentioned, for an interview partner. It was much harder to find someone who was willing to give us an interview since the situation was totally different than usual. Normally, one or two of us walked up to random people, told them about our journey and eventually about the project and asked for an interview. But with a huge camera and microphone already following us, when we walked up to the people, most of them did not want to talk to us. Until we met Dennis. He was willing to shortly share his views about the European Union with us on camera – thank you so much, for being so open!
No time to rest. The day after the ZDF team left us, a reporter from the German TV station NDR came to visit us – for 24 hours. That was pretty intense. In the beginning it seemed easier since she came alone with only a phone for video and picture takes and an old school microphone. So, we lived our regular life, cooked together, searched for another interview partner and talked about our documentary. But being observed all the time is really exhausting, we learned. And we know now for sure, and influencer life would absolutely be nothing for us. But well, it was an interesting experience to have for a day.
When the NDR-reporter was with us, we interviewed two people for our documentary ourselves. We ran into Tasfit and his friend Kidane at a gas station and started chatting with them. They live in Denmark for five years now, are able to speak many languages – including English and Danish – and still told us how they get discriminated here and there which was really sad to hear.
In the beginning they were skeptical to talk about their political opinion in front of a camera. But after we talked for a while and showed them the trailer to our movie, Tasfit was willing to share his views about Europe and injustices in the world on camera. The interview with Tasfit was very moving! When he said that he hopes that people would stop using stereotypes and look behind the masks of people to try to understand each individual, I realized what he was or is going through here. Thank you so much, Tasfit, to be so brave to come in front of the camera for us!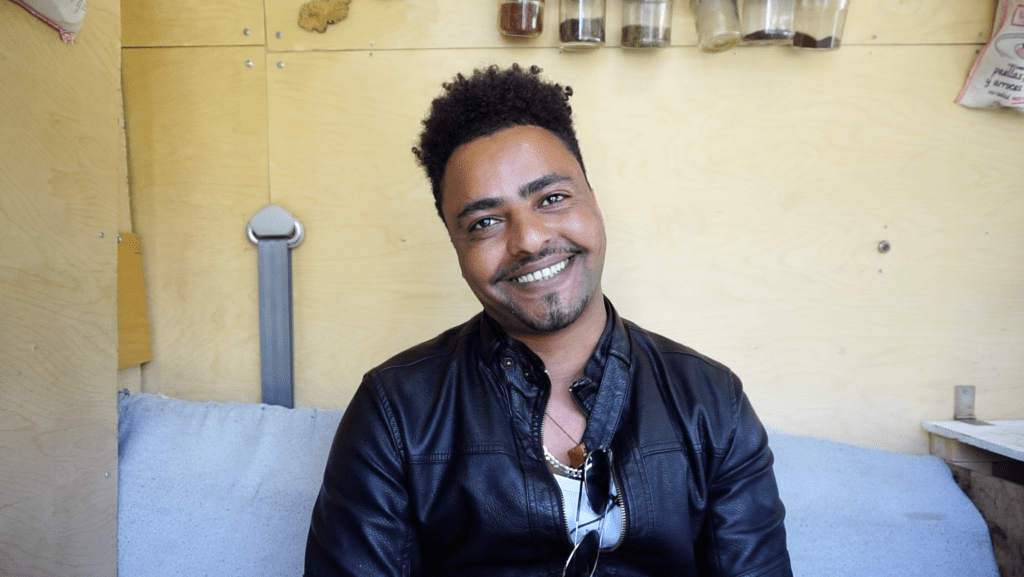 After the interview with Tasfit also Kidane agreed to give us an interview on camera. He talked about escape out of Eritrea over the Mediterranean Sea and how traumatizing it was. And also, how hard it is to live so far away from home. Another really moving interview – thank you so much, Kidane, for sharing your experiences and views on the EU with us!
After all these camera experiences we were happy to spend our last days with just the three of us. Those days, we were working on the documentary all day long since we knew that in the following months, we would not really see each other.
That's the route we took through Denmark back to Hamburg: