Dobrodošli – Benvenuto – Willkommen
Slovenia – Italy – Austria
In only a few days we crossed those three countries. Okay, we've only been in Italy for a few minutes, but still, this again showed us the travel freedom Schengen gives us. The best route for us from Triglav Nationalpark, where we spent one night, to Faaker See in Austria, where we were heading to (without paid roads), was through Italy, so we were happy that everything's so easy these days and we were able to take that route.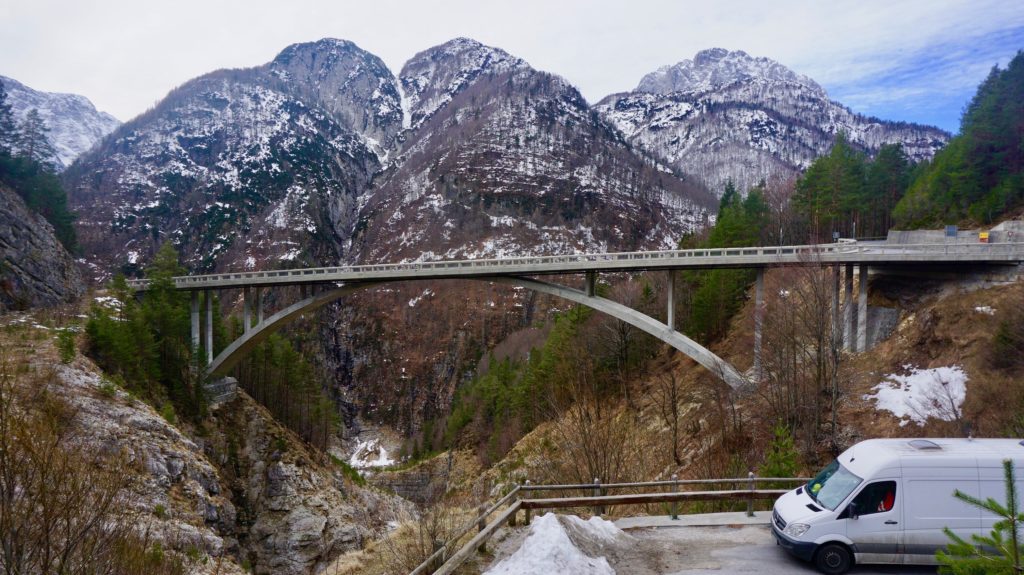 As promised here: Let's talk about our life with a stove on the road. By now, we all feel save with it burning in the car and the little wood stove heats Oswald's interior up in only a few minutes. We can say that it was definitely a good decision to install it. Right now, we make a fire every evening. It is a totally new experience to chill in the van in the evening without tons of clothes and blankets so that you don't freeze. Plus, it looks nice: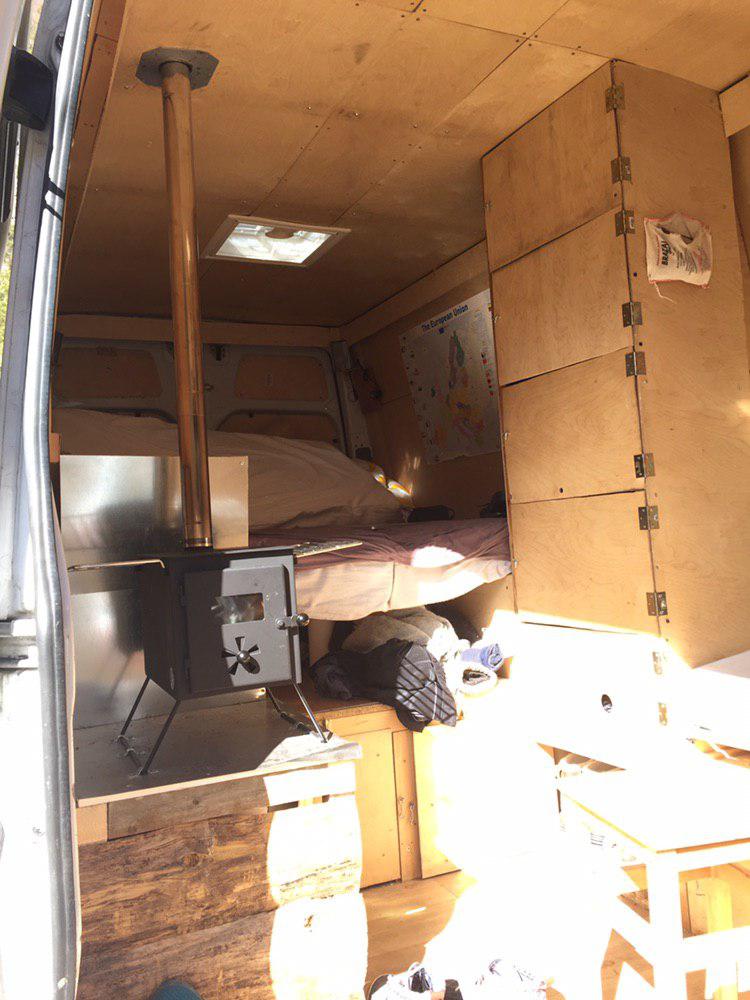 Leaving Slovenia wasn't too easy. We had a wonderful time in this beautiful country. But since Austria welcomed us with stunning weather and a beautiful landscape the goodbye didn't feel too bad.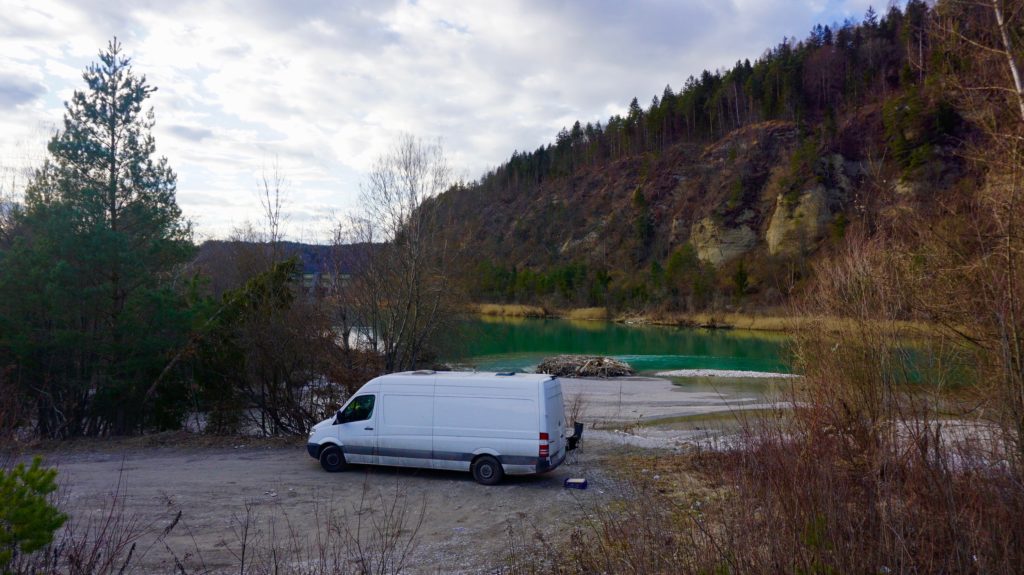 Birthday time! Tim got old. We celebrated that at this lovely spot with birthday-cake and coffee in the sun. It was a nice day which ended with homemade burgers. I will miss that meal for sure after this journey. Actually, it is a cheap and simply dish but making the vegetarian patties takes a lot of time and the ones Tim makes get better from time to time. So, I know that mine wouldn't be that delicious and probably I wouldn't have the patience anyways. But for now, it is time to enjoy them every now and then!
The next day, old Tim and the rest of us drove further in the direction of Vienna. The goal of the day was, to interview a random person in the Austrian countryside. We drove away from the nice sleeping spot with the tiny waterfall and looked out for someone we could talk to about our project. Luckily, it was very sunny and warm, so a lot of people were outside in their gardens to work our play. This way, we met Catharina and her family. Catharina, her husband and their two little sons played soccer outside, we stopped and went over to their fence. Immediately, they were super friendly and when we shortly explained our project, they invited us into their pretty garden. We were sitting there with Catharina, enjoying a beautiful view over Austrian mountains, drinking water from their own well and talking about self-sufficient life, quality of food, traveling and politics. Those encounters are always special. On the one hand, it feels like you know the other person for quite a while since you talk about way more than small-talk, so you get into really interesting topics. On the other hand, it is always exciting because you get to know a person in a short time and have the chance to learn lots of things about the life in this specific country and different lifestyles.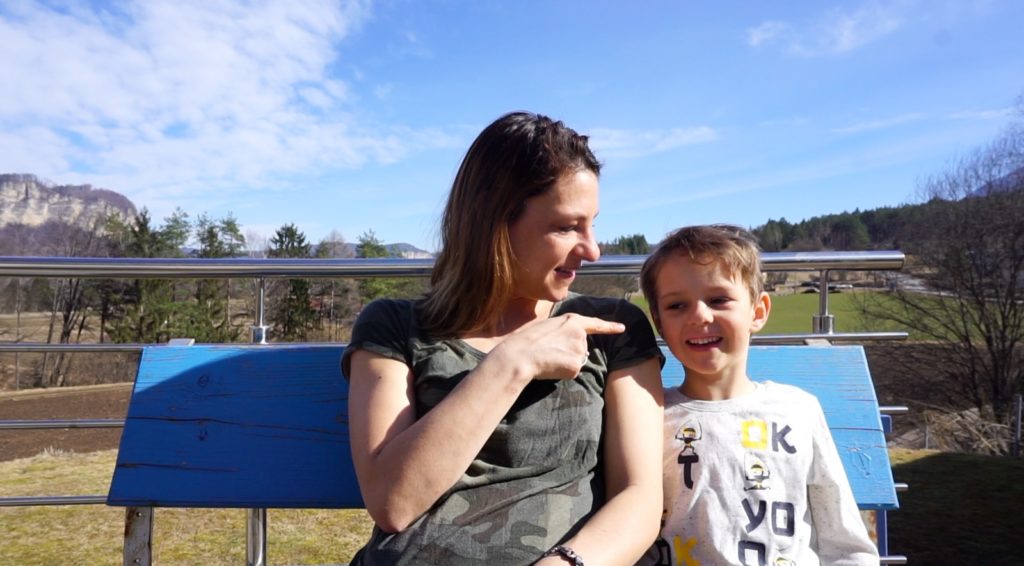 Catharina talked about her ideas, their way of producing vegetables and holding animals and how the EU influences their productions and life with us in front of the camera. It was an interesting interview and nice hours we spent with this nice family. Thank you, Catharina, for sharing your thoughts with us and also for everything else – before we left, we even got us some eggs from their own chickens and homemade elderflower syrup. Plus, we got to play soccer with Philipp which was a lot of fun.
We drove on with some more priceless memories in our minds.
Well, that would be a nice end for this blogpost. But there was even more we experienced in those few days in Austria: We had a pancake breakfast, an afternoon where the four of us (Emmie was still traveling with us – if you missed our last blogpost and wonder who Emmie is, you can learn about that here) played soccer, a meeting where we discussed our script where we appreciated Emmie's input a lot and saying goodbye to Tim for one week and to Emmie for the rest of the trip.
For one day it was just Felix and me. Actually, that's not completely right. We visited Gina, a friend of Felix' friend, and her boyfriend in Vienna. We landed here out of several coincidences, but it was a nice day! We got the chance to relax, played some new kind of PlayStation (we realized, that we haven't done anything like that in a loooong while), went for a walk in a park and climbed a tower to get a great view over Vienna:
Plus, we enjoyed some delicious homemade "Kässpätzle" and cake and even got an interview with some really interesting input. Thank you, Gina and Stefan, for everything! It was so nice that you took us into your home and shared your thoughts and opinions not only about the EU but also the Austrian politics with us.
After leaving their house, we went to pick up Marlene, a friend of mine who will join us for the following week in Slovakia. Hello Marlene, welcome on board!
As usual, you can follow the route we took:
The end.